August 13, 2022
at 8:47 pm
If She Wrong for Giving Money to Charity Instead of Her Friend's Kids? People Responded.
by Matthew Gilligan
People sure do get worked up about how OTHER folks treat their kids, don't they?
And in this story from Reddit's "Am I the A**hole?" page, a woman asked the readers there if she's wrong for giving money to a charity instead of her friend's kids.
Uh oh…let's see what happened.
AITA for telling my friend it is not my job to get presents for her kids?

"I know it sounds bad but hear me out. Part of me feels like I could've just sucked it up. back story below.

I (27F) live in a major city. I moved out of my home town when I was 18 for college and upon graduation, got a full time job in said city. I have a great job in wealth management and make great money, this will come in to play later.

Since moving away I visit a few times a year. Kellie and I have been good friends for 6 years and she has a daughter and a son, aged 5 and 3. I love her kids and spoil them to no end. Every time I come up for a visit I am always bringing them presents of stuff I've accumulated in the months of my weekly tj maxx trips. I never show up empty handed for these kids and i love them.

Idk how to put this because I feel like a bad person saying this…but as the years go on we just don't have much in common. I have a long term boyfriend and I'm constantly getting asked "when's the engagement, you should get engaged soon so you can have kids ASAP".

I'm still young, i like being obligation free, going out, partying (pre covid obviously), I like having intellectually stimulating convos with people. I hope it doesn't come off as shallow but I've just noticed lately I get incredibly bored because the conversations go no where.

Kellie and husband have finance troubles so when we go out I'm always offering to pay for dinner, always paying when we take her kids to activities like amusement parks or zoo's. Although I'm not around as much in their life because I live out of state, I am ALWAYS insisting that I take them places or do fun things with the kids. They don't struggle with money because they make minimum wage, they struggle because they don't budget.

onto event. I went Black Friday shopping with her and was picking up a lot of toys for boys aged 8-15 (unlike her 3 year old son). When she asked what they were for, I explained to her that I "adopted" a family of underprivileged children to get presents for (I knew the toys would be going directly to said children and that it wasn't some scam)

Especially given covid times I wanted to give back so I opted to shop for the three boys, and told her that since I have no kids of my own to shop for I wanted to spend my extra bonus money on them. She looks me dead in the eyes and goes "what do you mean you don't have any kids to shop for?

You could use it on my kids, you know how much we struggle sometimes and you make so much money". Let me be perfectly clear; her two children are already spoiled beyond words, not just by me but EVERYONE. these kids have more than children frankly ever need. I'm trying to do the right thing for children who NEED IT, and I told her this much.

I exploded and told her everything I said above and she started crying. I immediately felt like s**t because she is a good friend and I love her kids, but I obviously already got them a few things and not all of my money needs to go to them."
Here's what Reddit users had to say.
This reader said she's NTA and she doesn't need to be friends with this person anymore.
And this individual said she's doing something nice and her friend shouldn't make her feel bad about it.
This Reddit user said she probably shouldn't be friends with this person anymore.
And this reader brought up a good point about childfree people VS. folks who have kids.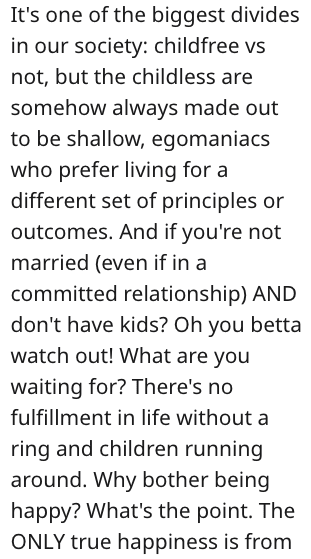 Another Reddit user said she's not the a**hole for taking a stand here.
Add TwistedSifter to your Google News: